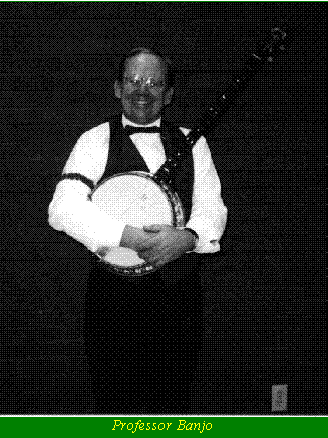 Richard "Professor Banjo" McKee is a life long resident of Oklahoma. From humble beginnings on the "flute-a-phone" he began his musical career on the cornet.

From the cornet he was moved to the "baritone" in Jr. High and High School. Upon entering the University of Oklahoma the Professor studied "euphonium" diligently and moved on to the "Tuba".

Influenced his entire life by "Bob Wills" country swing, "Duke Ellington", and "Louis Armstrong" the Professor became involved in the beginnings of a dixie band called the "Six Fingers". Listening to recordings of "Jack Teagarden" the Professor began studying the trombone, also playing in a local college dixie group.

With the "Symphonic itch" tickling at him, the Professor moved to Midland Texas playing in a small orchestra for a year. Tired of counting measures he moved back to Norman, Oklahoma and continued his fervor for dixieland.

After years of playing both the tuba and trombone the Professor continued to feel somewhat "incomplete" musically. On Memorial Day Weekend, 1992 the Professor was performing on the tuba at the Guthrie Jazz Banjo festival. Feeling dejected backstage after a "less than joyful" performance the Professor heard the sound that would change his life forever!!! The exhilarating, joyful sound of a 4-string banjo! From that day forward the Professor's quest is to bring the exciting, joyful sound of the 4-string banjo to the world!!

Back to Professor Banjo's Original Red River Steamboat Band....